Your One-Stop-Shop for Special Event Permitting
One-Click Event Selection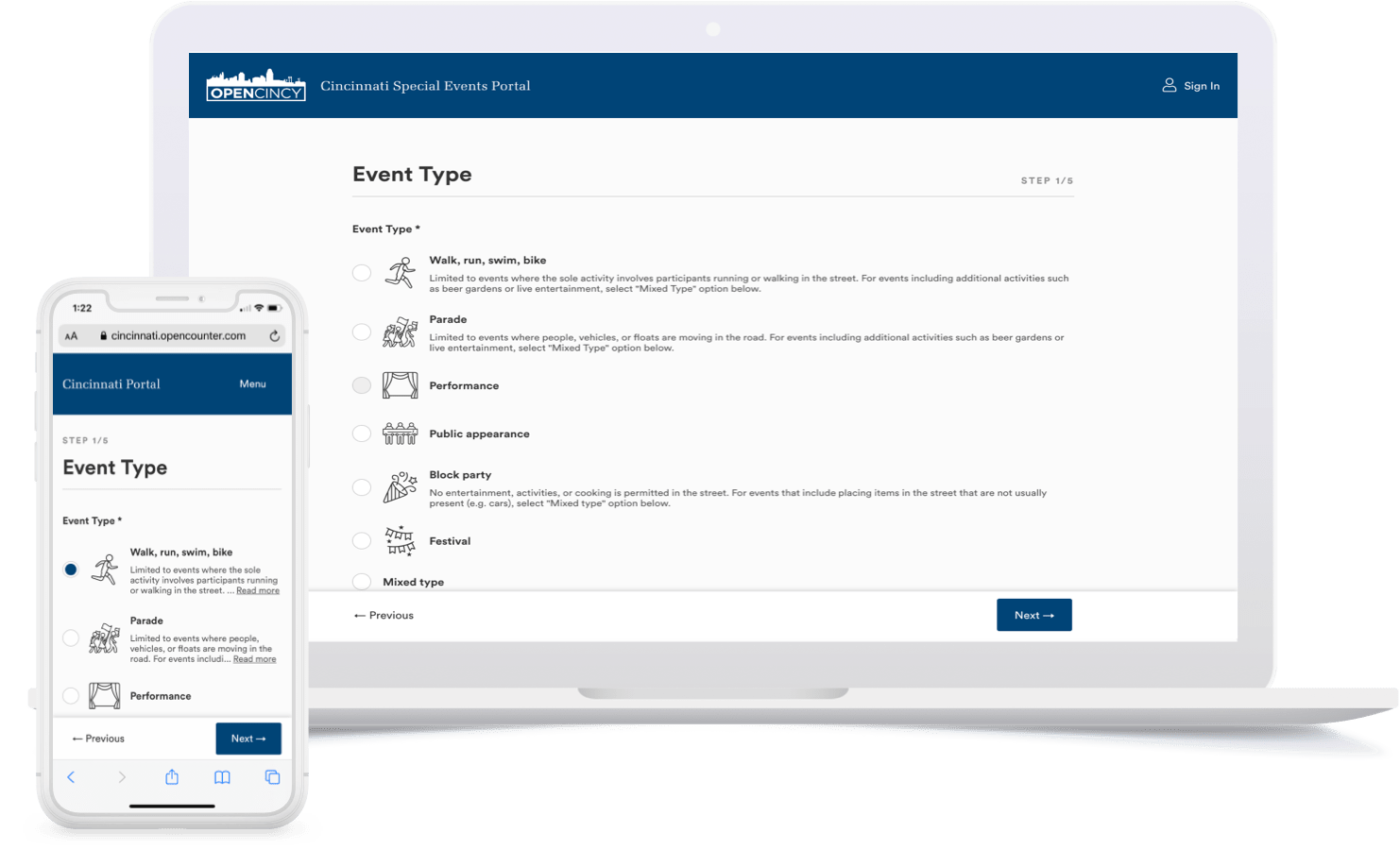 One-Click Event Selection
Start applicants off on the right foot by letting them quickly select their event type from a predefined list using everyday language. We'll work with your city's team to configure these options so they align with every jurisdiction's requirements.
Intuitive Scheduling
Simplify a complex scheduling process. Intuitive date and time selectors let applicants specify their event's start time and duration — including setup and breakdown time frames needed for safety inspections.
Intuitive Scheduling
Powerful Route and Location Builder
Powerful Route and Location Builder
No more guessing whether that marathon is precisely 26.22 miles or not. Our interactive map interface — the first of its kind on the market — means applicants can either select predefined areas on the map based on their event type or draw their own proposed routes through the city.
Real-Time Fee Calculation
We add transparency to permit fees by updating the cost of every permit in real time as applicants enter event details. (Another benefit you'll enjoy only with OpenCounter.) Plus, the portal runs fee estimations across multiple departments and data sets, so applicants will only answer questions related to their specific event.
Real-Time Fee Calculation
Easy Payment and Issuance
Easy Payment and Issuance
OpenCounter takes care of everything from permit discovery to issuance within the portal. Applicants simply complete their applications and pay online, then download their permits and receipts after their applications have been approved.
Mobile-Friendly
Take OpenCounter everywhere you go, thanks to a responsive design that makes our products easy to use on any mobile device.
Expert Setup
Our in-house team of public sector experts knows your headaches — and how to tailor OpenCounter to end them for good.
Comprehensive Security
Every OpenCounter product is served over SSL, encrypted at rest, and backed up to an ISO 27000/SOC 1 and SOC 2/SSAE 16/ISAE 3402 data facility.
Cloud-Hosted Saas
Our service is hosted at US data centers in full compliance with the Patriot Act and the Freedom of Information Act.
Accessible to All
OpenCounter meets the WCAG 2.0 Level AA web accessibility standard and can be fully translated into more than 40 languages.