Simplified Project Selection
Simplified Project Selection
Applicants shouldn't have to pore through pages of jargon-filled codes and ordinances to define their project. With our Residential Portal, OpenCounter makes the process clear-cut by translating complex municipal language into everyday terms like "building a new residence" and "tree removal."
Easy Address Search
Make squinting at static PDF maps of your city a thing of the past. Our interactive map lets applicants type their address or zoom in on the map to select their location.
Easy Address Search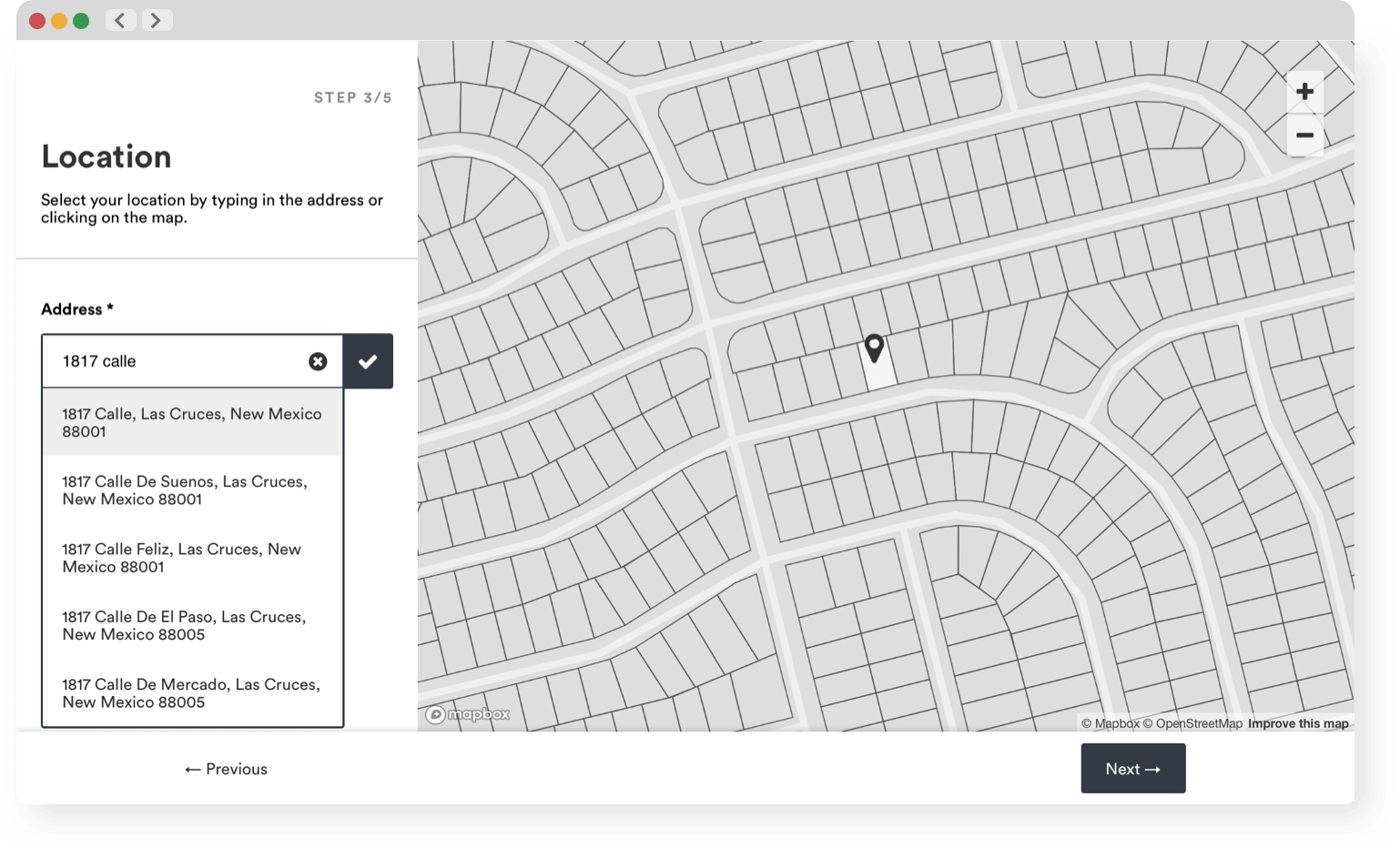 Real-Time Fee Calculations
Real-Time Fee Calculations
We take the guesswork out of permit fees by updating the cost of each permit in real-time as applicants answer questions. (In fact, OpenCounter is the only solution out there that does this!) Plus, our Residential Portal runs fee estimations across multiple departments and data sets, so applicants will only answer questions related to their specific project.
Downloadable Summary
After applicants enter their project details, they land on a summary page outlining the next steps for every department they'll work with to pull those permits. So when it's time to head to City Hall, applicants are equipped with all the info they need to have an informed discussion about their project.
Downloadable Summary
Insightful Analytics
Insightful Analytics
Powerful dashboards and utilization metrics offer insight into high-level permitting trends in your community. Respond to inquiries and measure the performance of the portals.
Mobile Friendly
Take OpenCounter everywhere you go, thanks to a responsive design that makes our products easy to use on any mobile device.
Expert Setup
Our in-house team of public sector experts knows your headaches — and how to tailor OpenCounter to end them for good.
Comprehensive Security
Every OpenCounter product is served over SSL, encrypted at rest, and backed up to an ISO 27000/SOC 1 and SOC 2/SSAE 16/ISAE 3402 data facility.
Cloud-Hosted SaaS
Our service is hosted at US data centers in full compliance with the Patriot Act and the Freedom of Information Act.
Accessible to All
OpenCounter meets the WCAG 2.0 Level AA web accessibility standard and can be fully translated into more than 40 languages.
Questions? We've got answers
We take care of that for you! You can expect the same expert configuration from our Government Services team every time your city needs to update its zoning and municipal codes or fee tables. Just tell us which changes to make, and we'll prepare those updates for your review and make them go live on the day you request.
Project time frames depend on the scale of implementation. We can deliver a single customized portal in fewer than two months, whereas a suite of portals will take between three and six months to deliver. (But remember, our white-glove service means we do all of the heavy lifting!)
We are! OpenCounter will perform 99 percent of the work involved in configuration and implementation. All we need is for your team to provide us with your data (ArcGIS shapefiles, permit catalog, overlay districts, and more) and lend a hand in the final stages of testing and quality assurance.